Handmade D2 Tool Steel Dagger Sword, Custom Sword, Viking Sword, Matchet Sword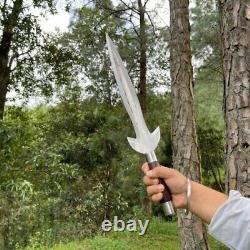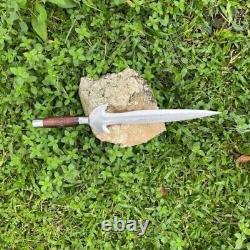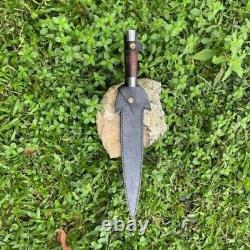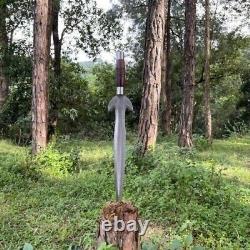 CUSTOM HANDMADE D2 STEEL HUNTING DAGGER KNIFE SWORD WITH LEATHER SHEATH. OVERALL LENGTH : 22 Inch Approx. THE HIGH GRADE DAMASCUS & STEEL USED FOR BLADE CONSISTS OF LAYERS OF LOW CARBON AND HIGH CARBON MIXTURE WELDED, FORGED AND HAMMERED SEVERAL TIMES TO OBTAIN UP TO 352 LAYERS. THE HARDNESS OF THESE BLADES IS UP TO 59-60 HRC ON THE ROCKWELL SCALE PROVIDING SHARP EDGES THAT ARE DESIGNED FOR LOTS OF USE. SHEATH: COW HIDE LEATHER SHEATH.
WE DON'T SELL KNIVES TO ANY ONE WHO IS UNDER AGE 18. THE KNIFE BLADE SHOULD ALWAYS BE CLEAN AND TREATED WITH OIL AFTER USE. WE FEEL PROUD TO SATISFY OUR CUSTOMERS.