Custom Hand Forge Damascus dagger Knife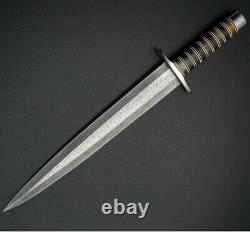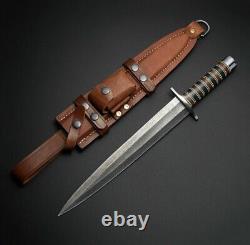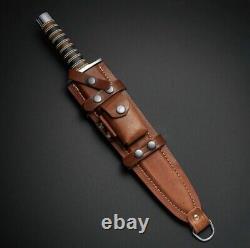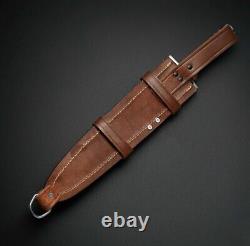 Premium quality knives, Whole sale dealer. ARKANSAS TOOTHPICK Handmade Damascus BLADE DAGGER KNIFE. Handle Material: Leather and spacer. We Manufacture the blade of our knives in advanced and keep them in stock. After receiving your order we finish processing the blade and add a handle, which takes one day.
We have professional blade smith working hard on knives, axes and swords. Forge knives Damascus is real and not just an acid etch. Damascus is a mixture of 1095HC and 15N20 nickel carbon. We heat them up together and then fold the bar over and over to get the desired layers, ours are 384 layers. Then we burn the blade in acid, and it turns the nickel satin color and the high carbon turns blackish gray.
This is how the layers are exposed to show the layers of the new steel created coined "Damascus". All Damascus is acid etched to show the layers. Then we high polish the metal it will be shinny satin like all steels. Only after we burn the sides of the blade with acid do you see the layers of the two steels.
After we make our knives we high polish the handles and put an edge on the blade. The high polishing buffs off the acid burned layer of the handle, and the blade edge is sharpened and the acid burned edge becomes satin. IF YOU HAVE ANY QUESTION FEEL FREE TO SEND US MESSAGE WE WILL ANSWER ALL QUESTIONS WITHIN 12 HOURS. WE ARE NOT RESPONSIBLE FOR ANY INJURIES ASSOCIATED WITH THE USE OF OUR TOOLS. OUR PRODUCTS ARE INTENDED FOR LEGAL USE ONLY BE RESPONSIBLE BUYERS.
THEREFORE, WE WILL NOT SELL OUR PRODUCTS TO ANYONE UNDER THE AGE OF 18. WE MADE ALL TYPE OF KNIVES AND CUSTOMIZE ANY TYPE OF PICTURE. NEVER STORE YOUR KNIFE FOR LONG TIME IN LEATHER SHEATH. LEATHER CAN ABSORB WATER, WHICH WILL RUST THE KNIFE. ALWAYS CLEAN THE BLADE AFTER USING WITH OIL OR WAX. YOU WILL RECEIVE LEATHER SHEATH WITH THIS KNIFE.