Hand Forged Damascus Steel Hunting Commando Battle Ready Dagger Knife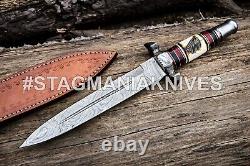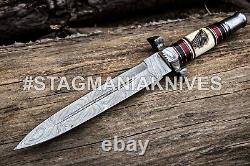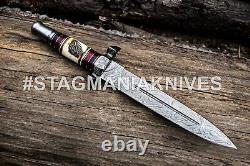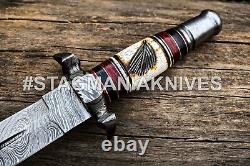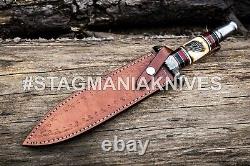 BEAUTIFUL HAND FORGED DAMASCUS STEEL HUNTING KNIFE. Engraved Burn Camel Bone Handle. Hand Forged Damascus Guard & But Cap. Overall length is 15.0" Long I Blade Length Is 10.0" Long I Handle Length Is 5.0. This beautiful hunting dagger knife was designed and made by. Knife is not only stunning in looks but it is also rock solid because of robust construction with its 4 mm thick blade. Beautiful Damascus blade of the knife is the result of hours and hours of forging. Not many makers can keep such pattern of layers upon layers flowing all the way to the edge of the blade, which creates a saw-blade effect at microscopic level, allowing the blade to keep cutting while other blades have dulled.
Hand forged the blade of this knife with 1095 and 15N20 high carbon steel true layers (512). Blade was given excellent heat treatment and Rockwell hardness of the blade along its edge is 54 and along the spine is 42-45.
4 mm thick blade has fantastic hand grinds on both side. Overall length of this knife is whopping 15.0" and the length of the blade is 10.0".
Superb handle is a work of art. It is made of engraved burn camel bone & hard wood with brass spacers. Knife is complimented with hand made damascus guard & but cap.
This sheath is not of universal size but it is made custom just as this custom knife. The knife come with custom made genuine top quality calf skin. Which fits on knife perfectly. The leather sheath is totally hand tooled and sewn. Know that our fulfillment teams continue to send product daily as we take extra precautions to ensure their safety. Thank you for your patience and understanding. Due to coivd-19 sops it might be take 2 or 3 days more. Thank You for your patience. Please note all buyers:- We are using stock knife pictures may be you will receive little bit different instead the pictures. Please write to me in case of any queries. I will be at your service. AGE RESTRICTION: WE DON'T SELL KNIVES TO ANY ONE WHO IS UNDER AGE 18. SMK IS ALSO NOT RESPONSIBLE FOR INJURY, DEATH OR CRIMINAL ACTS DUE TO THE MISUSE OF OUR PRODUCT.