Dagger Knife Japan Large Folding, Jigged Handle Stag Look Hunting Fighting VNTG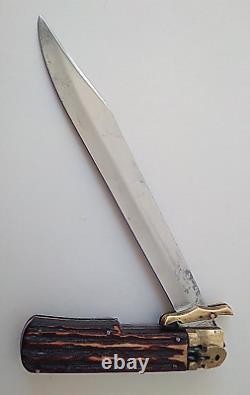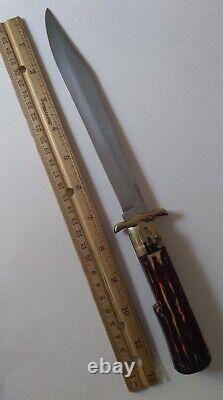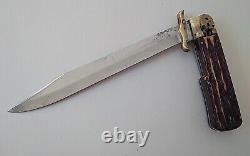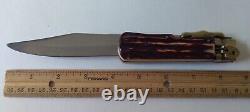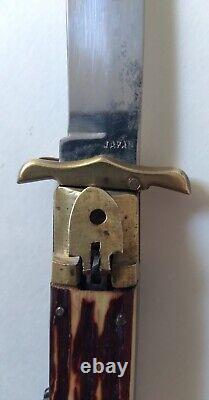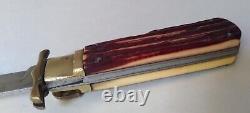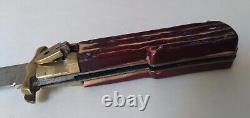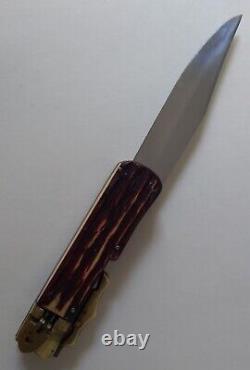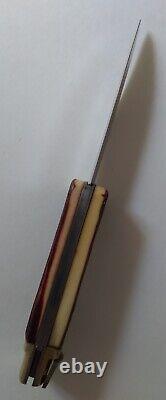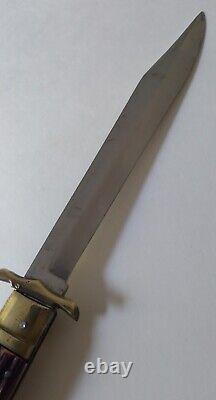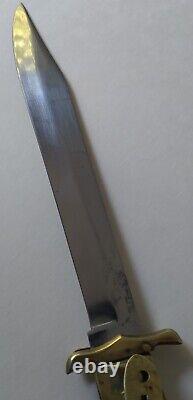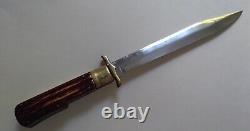 Large Folding Dagger Knife Japan Jigged Handle Stag Look Hunting Fighting Vintage. Very cool unique folding knife made in Japan. This knife when folded has an exposed blade length of approximately 4 1/4" and overall length of approximately 8 1/2". The blade, when folded into the knife completely, still remains exposed and would be best stored or carried in a sheath. There is a brass piece on a spring that when lifted up, releases the blade from the handles so that it folds open exposing an approximately 7" blade and an approximate overall length of 12".
The brass piece acts as a lock keeping the blade in the position you choose. The metal in the knife appears to be stainless steel and brass but there are no markings designating that.
The jigged handles have the appearance of stag antler but when tapped sound more like a plastic, possibly bake lite. The knife seems sturdy and does not have any play in either position. The pins on this knife seem a little high to me, I would possibly file them a little if I were to keep it. The blade does not appear to have been resharpened, it has a nice polished finish, some fine micro-scratches and an area of discoloration near base of blade. Please see pictures for full description and additional details.
Must me 18 years old or older and follow all state and local laws. This is a long blade, please check your local regulations prior to purchasing.
Please review pictures for condition of item, pictures are part of the description and exactly what you are purchasing. Please check out our other auctions. Vintage items, comics, cards, collectibles, books, toys, Hot Wheels, outdoors items, knives, lures, household, etc. Inventory varies, keep checking our listings.
We are a non-smoking household.