Vintage SOG SEKI Desert Dagger S25 Tactical Combat Knife, MINT, VERY RARE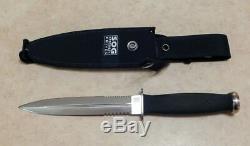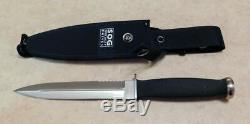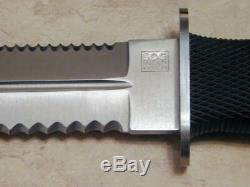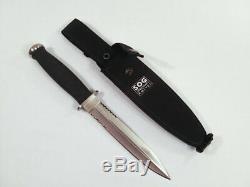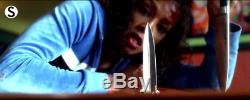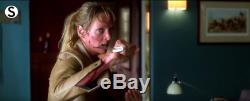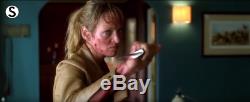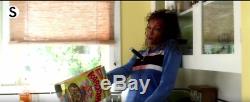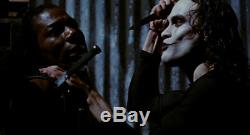 This knife has never been used, never been sharpened, never been worn. Knife is in Mint Condition. I bought this knife direct from SOG through their catalog in the early to mid-1990s and it sat unused in a sock drawer since then. SOG changed the later sheaths to Kydex sheaths, which actually could scratch the blade, nylon does not. There is some light wear to the nylon sheath due to it moving around in a sock drawer for 20+ years.
This Very Rare discontinued knife has soldered crossguard construction, Kraton tactical grips, a spear-point blade, blood groove in the middle of the blade, and a field hammer pommel. Knife Specifications: Blade Length: 6.5 in. Overall length: 12.0 in.
Blade Steel: 440A steel (Later versions feature AUS-6 Stainless Steel) Blade hardness: Rc. 57-58 Blade Finish: Satin-polished Weight: 9.0 oz. Screenshots include frames from three of the several different movies that have featured the SOG Desert Dagger. Quentin Tarantino's Kill Bill: Vol. 1 (2003), The Crow (1994), and Deadpool (2016). In former United States Navy Seal Lieutenant Commander Rorke Denver's memoir " Damn Few: Making the Modern SEAL Warrior ", he specifically praises the SOG Desert Dagger.
This is the same real life soldier that ended up playing the main character in the 2012 movie "Act of Valor". He wrote: For most SEALs, the big Rambo knife is mostly a myth and I never carried one. But like most warriors, I always had a fixed-blade knife with me, a SOG Desert Dagger with a six-inch blade or the slightly smaller SOG Pentagon with a five-inch blade. I have buddies who are knife pros.
Theyve convinced me that a folding-blade knife is a broken knife, great in your pocket at home, not so great in battle. I used it to cut a line, open a package, slice open a mattress in a hunt for hidden weapons. That knife was in action many times a day. The handles and the grips are easy to hold whether hands are wet or dry. I hung my knife vertically on my body armor, handle up, blade down.
That way if someone came at me in close quarters in such a way that my hands were pinned against my chest, Id still be able to grab the handle of the knife. It would have to be a highly motivated bad guy to still hang on as I was slicing at his hands or his eyes.
" - Rorke Denver's memoir "Damn Few: Making the Modern SEAL Warrior. The item "Vintage SOG SEKI Desert Dagger S25 Tactical Combat Knife, MINT, VERY RARE" is in sale since Sunday, December 8, 2019. This item is in the category "Collectibles\Knives, Swords & Blades\Collectible Fixed Blade Knives\Vintage Fixed Blade Knives\Factory Manufactured". The seller is "joshua_caleb" and is located in Yakima, Washington.
This item can be shipped to United States.
Knife Type: Fixed blade
Country of Origin: Seki, Japan
Maker: Kinryu Seki
Part Number: S25
Blade Length: 6.5 In x 0.180 In
Blade Material: 440A Stainless Steel
Blade Type: Spear Point
Blade Edge: Double-edged with serrations
Dexterity: Ambidextrous
Type: Combat
Handle Material: Kraton
Brand: SOG
Authenticity: Original
Overall Length: 12.0 inches
Sheath: Nylon
Blade Hardness: Rc. 57-58
Blade Finish: Satin-polished
Weight: 9.0 oz