21.5kma Mirror Polish 52100 Bearing Steel Full Tang Smatche Combat Knife 9596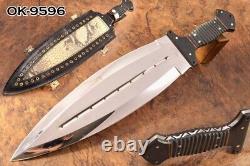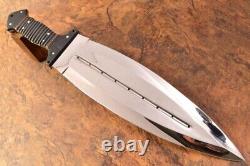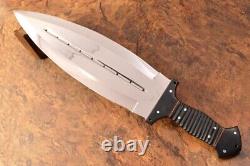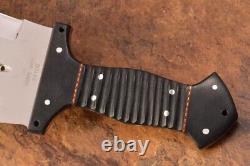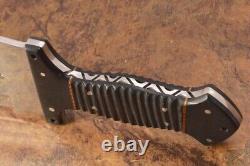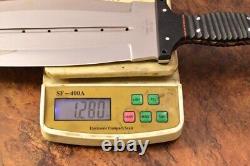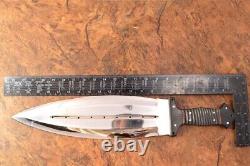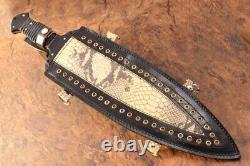 Custom Hand Made Mirror Polish 52100 BEARING STEEL SMATCHES COMBAT KNIFE. 58-60 HRC Which Holds The Sharp Edge For Long Time. BLADE THICKNESS 5.00 MM. Has a nice 52100 BEARING STEEL BLADE.
All our knives are hand made, durable and unique. YOU WILL RECEIVED THE SAME KNIFE. Our blades are made from high quality CARBON STEEL which is from the 52100 BEARING STEEL. He has been tested under a variety of application which will offer professional performance in categories of toughness, strength (lateral stress) and edge honing and holding ability. In a 5 spot Rockwell test our blades will average near or close to 58 which offers a perfect balances between its toughness and strength.
If you have any question feel free to send us message we aim to answer all questions within 24 hours. We will resolve all issues as quickly as possible. We are not responsible for any injuries associated with the use of our tools.
Our products are intended for legal use only by responsible buyers. Therefore, we will not sell our products to anyone under the age of 18. This is beyond our control and we apologize for this inconvenience.
Our Tools are very sharp so open and use them very carefully. NEVER STORE YOUR KNIFE FOR LONG TIME IN LEATHER SHEATH.
LEATHER CAN ABSORB WATER, WHICH WILL RUST THE KNIFE. ALWAYS CLEAN THE BLADE AFTER USING WITH OIL OR WAX.