Rare German Fighting Knife Dagger K98 Mauser remake, Bulgarian army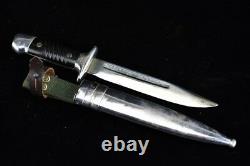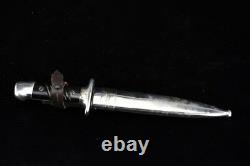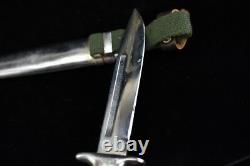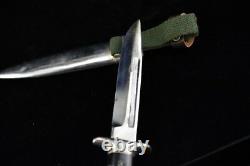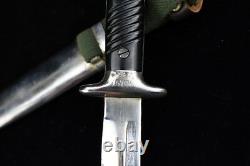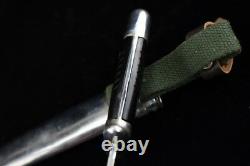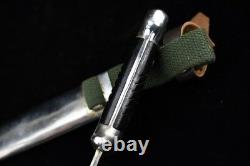 We offer this very interesting and rare original Bulgarian communist combat knife dagger, remake of the of German K98 Mauser bayonet. During the WWII Bulgarian Royal Army was supplied with all kind of military equipment by its allies Germany and Austria. Right after the war all German bayonets Mauser K98 left were re-used as this new model Bulgarian combat knifes K98.
We have even came across some knifes stamped with Wafenampt mark. Initially in'50s they were produced only for the use of the Military High School. After that, during'70s this model was used by the other army units in extremely limited quantity - only on barracks duty. At the beginning of the'80s they were replaced by the AK 47 bayonets. Only few of the Mauser remakes survived the communist regime. They are quite rare in present days. There are known two different types of this combat knife: with leather- and with nickel-plated iron K98 scabbard.
Here we offer the second model - with nickel-plated scabbard and same elements on the handle. At first right after the WWII these knives were used as parade officers daggers , mainly in the military schools.
Later model was most used by the standing guards / sentries, and received the name "Guard's knife". Perfect make, German steel, very good preserved nickel-plated cover and blade. The grip is both sides bakelite plated - remake of K98. The cross-guard is stamped by the communist army "15709". As mentioned above the knife comes with metal Mauser K98 re-make scabbard. On its lower end there was a German Waffenamt mark WaA 883 manifacturer A. Scabbard completes with canvas carrier and leather strap both in very good condition, probably added / or replaced old ones in 1970s. Full length of the knife with scabbard: 30 cm /11,9 inches, the knife only 27.7 cm/ 10.9 inches.
Blade: 16.6 cm / 6.6 inches. Very good blade , never sharpened, scratches only on the nickel cover. Few small dents on scabbard. The item "Rare German Fighting Knife Dagger K98 Mauser remake, Bulgarian army" is in sale since Tuesday, January 8, 2019. This item is in the category "Collectibles\Knives, Swords & Blades\Daggers".
The seller is "zavera" and is located in EU. This item can be shipped worldwide.