Roman Gladius Historical Custom Handmade D2 Steel Blade, Dagger Warrior Sword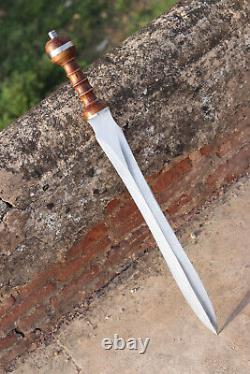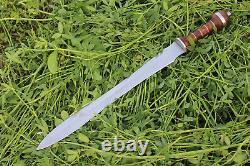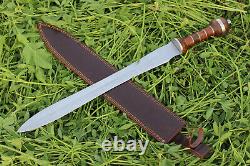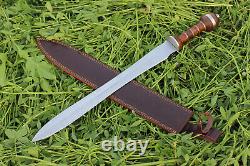 HAND FORGED D2 STEEL BLADE. HAND FORGED DAMASCUS GUARD & POMMEL. This gorgeous Sword was designed and custom made by BCK. Marvelous D2 blade of the sword is the result of hours and hours of forging. BCK Hand forged the blade of this sword with D2.
Blade was given excellent heat treatment and Rockwell hardness of the blade along its edge is 54 and along the spin is 42-45. 4 mm thick blade has fantastic hand grind. Overall length of this Sword knife is 26" and the length of the blade is 18".
Handle is made of gorgeous looking Rosewood. This sheath is not of universal size but it is made custom just as this custom knife. The knife come with custom made genuine top quality calf skin. Which fits on knife perfectly. The leather sheath is totally hand tooled and sewn.
Please write to me in case of any queries. I will be at your service.